Philadelphia Personal Injury Attorneys
Personal Injury Cases in Pennsylvania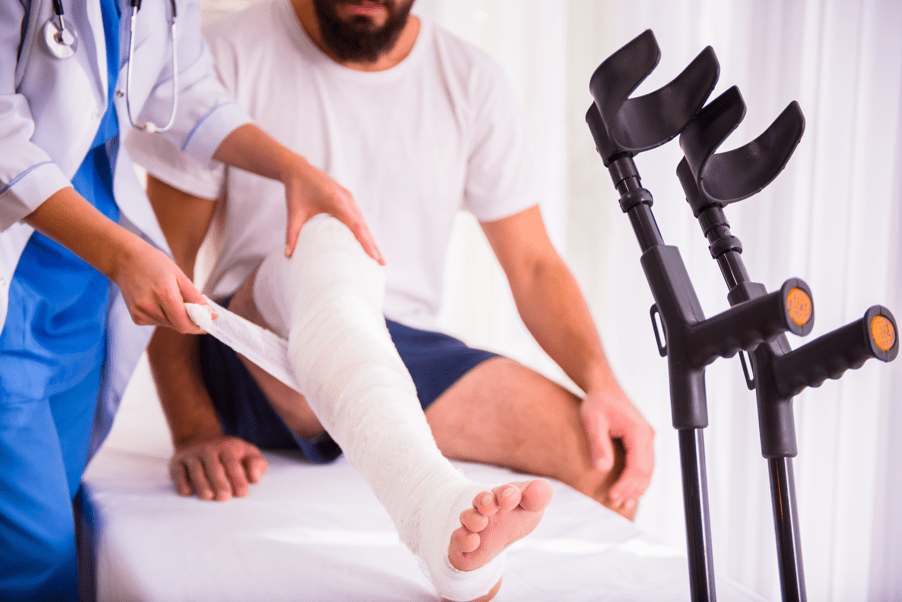 According to the National Safety Council, there aretens of millions of preventable injuries each year across the United States. Many of these injuries are the direct result of the negligent or reckless behavior of another person, which creates a question of legal liability.
When the injury is serious, it can cause unaffordable financial repercussions for the victim and their family, only adding to the frustration of the situation.
If you were seriously injured by the negligent or reckless actions of a third party, you may be able to seek compensation for your financial losses, pain, and suffering.
Contact our team of Philadelphia personal injury lawyers at Golomb Spirt Grunfeld, P.C. to discover how to begin a claim against the party that hurt you. We represent accident victims in Pennsylvania and New Jersey but can also assist with injury cases nationwide.
On This Page
Types of Cases We Handle
Golomb Spirt Grunfeld, P.C. is a recognized and awarded personal injury law firm where clients come to obtain results-driven representation. Over the years, we have accumulated the resources needed to handle highly complex cases that are seen as too complex or expensive by other firms.
If your case was turned away by another attorney, or you already know that you need top-tier representation that doesn't back down, please reach out to our team of personal injury lawyers right away.
We represent clients who need help with a variety of injury lawsuits including:
During an initial meeting, we can discuss the details of your accident and determine if we are best suited to represent your case. We work with an extensive network of lawyers, and we would be happy to put you in contact with another law firm or attorney we trust if we are not the optimal fit for the job.
Compensation in Personal Injury Claims
The money that you are owed after an accident understandably might be the most pressing thing on your mind, especially after you have received the first round of necessary medical treatments. It is common for survivors of serious accidents and their families to fall on tough financial times as a direct result of that accident.
Taking care of severe injuries is expensive, especially if continuing to go to work is not possible due to the symptoms of those injuries. Golomb Spirt Grunfeld, P.C. in Philadelphia can help you demand and pursue every last penny of compensation to offset those costs and losses as much as possible.
Compensation in a personal injury claim or lawsuit can pay for the following and more:
Past and future medical treatment costs, including rehabilitative therapies.
Wages you were unable to earn while recovering from your injury.
Income you will never earn due to reduced work or earning capacity.
Complications from permanent disabilities.
Physical pain and emotional suffering caused by the injury and recovery process.
Lessened enjoyment of life due or shortened life expectancy.
Personal Injury Statute of Limitations in PA
Pennsylvania has a two-year statute of limitation on personal injury claims. This means that you have two years from the date of your injury to file a claim or you may lose your right to compensation. The statute of limitations to file a claim against a government worker is 6 months. Additionally, Pennsylvania does not put a cap on damages in cases involving death and injury. The only exception to this is punitive damages, which are capped at two times the amount of actual damages.
What is the Modified Comparative Negligence Rule?
The "modified comparative negligence rule" that Pennsylvania follows allows you to pursue compensation for losses if you are less than 50% at fault for the accident that caused them. Your total compensation amount will be reduced by your percentage of fault, though.
If your fault or liability exceeds 50%, then you lose the right to pursue compensation from the defendant. This rule makes it highly important to hire a personal injury lawyer who knows strategies to keep your liability as low as possible, such as the appropriate use of concrete, tangible evidence.
We've Recovered Millions of Dollars for Past Clients
More than 30 years ago, Golomb Spirt Grunfeld, P.C. began our personal injury practice, and we have been representing victims of third-party negligence ever since.
Backed by decades of collective experience, countless case successes, and a team of legal professionals committed to helping you secure maximum compensation, you can trust our firm to provide the support and guidance you need after any type of accident.
Why do so many people trust our law firm first and foremost?
Our national reach means we can represent you anywhere in the U.S.
We utilize a team approach to ensure our strategies are bulletproof.
We understand the tactics used by insurance companies to minimize payment claims, and we actively work to combat these schemes.
If you're facing expensive medical bills, costly property repairs, and/or unaffordable rehabilitation expenses after your accident, let us help you file a claim for compensation. As experienced lawyers with proven results, we are fully prepared to go to bat with insurance companies on your behalf.
It's not uncommon for insurance adjustors to offer low-ball settlements in an attempt to capitalize on their business and trick you into getting less than what you are owed. We can fight low settlement offers and work to help you secure the full and just compensation you deserve.
At Golomb Spirt Grunfeld, P.C. in Philadelphia, our contingency fee policy means you don't pay unless we win your case. All upfront legal fees and expenses connected to your case will be covered by our team until we can reach a successful settlement or verdict on your behalf. We are ready to investigate your accident and evaluate the details of your case.
Personal injury lawsuits are time-sensitive. Act now and contact Golomb Spirt Grunfeld, P.C. for a free case evaluation with our Philadelphia personal injury attorneys today.