Personal Injury Attorneys in Philadelphia
Personal Injury Cases in Pennsylvania
According to the National Safety Council, in 2018 there were approximately 46.5 million preventable injuries throughout the United States. Often times, these injuries are the result of the negligent or reckless behavior of another person and can cause financial repercussions that can be unaffordable for both the victim and their family.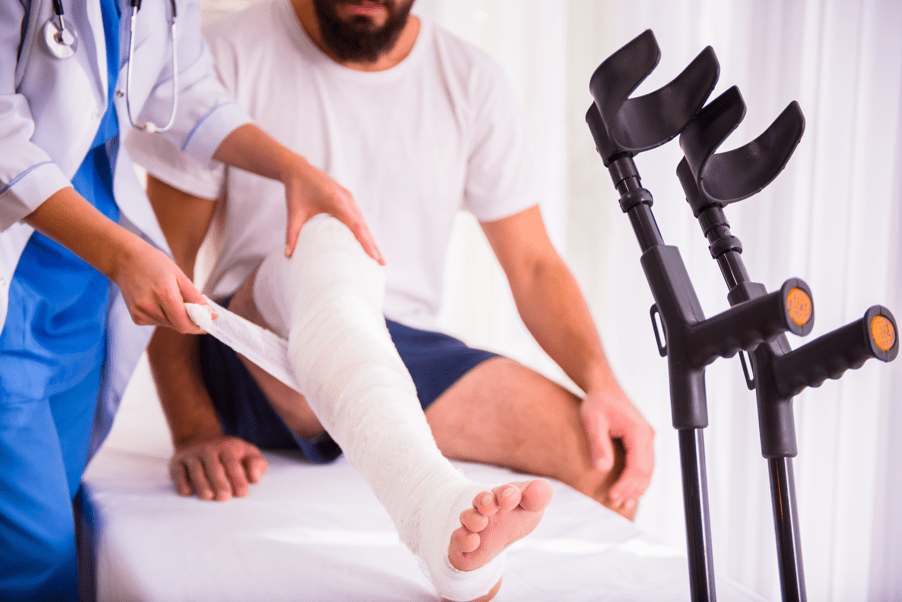 ---
Put 35+ Years of Experience in Your Corner from Our Philadelphia Personal Injury Attorneys
---
If you were unnecessarily injured by the negligent or reckless actions of a third party, you may be able to seek compensation for your pain and suffering. Contact our team of Philadelphia personal injury lawyers at Golomb Spirt Grunfeld, P.C. to learn more. We represent accident victims in Pennsylvania, New Jersey & nationwide.
Types of Cases We Handle
Golomb Spirt Grunfeld, P.C. is a recognized and awarded personal injury law firm where clients come to obtain results-driven representation. Over the years, we have accumulated the resources needed to handle very complex cases – even cases that have been deemed as too complex or expensive by other firms. If your case was turned away by another attorney, don't be afraid to seek help from our team of personal injury lawyers.
During our meeting, we can discuss the details of your accident and determine if we are best suited to represent your case. We work with an extensive network of lawyers, and we would be happy to put you in contact with someone else if we are not the right fit for the job.
Statute of Limitations for Personal Injury in PA
The state of Pennsylvania has a two years statute of limitation on personal injury claims. This means you have two years from the date of your injury to file a claim or you may lose your right to compensation. The statute of limitations to file a claim against a government worker is 6 months. Additionally, Pennsylvania does not put a cap on damages in cases involving death and injury. The only exception to this is punitive damages, which are capped at two times the amount of actual damages.
What is the modified comparative negligence rule
A "modified comparative negligence rule" means that if you are less than 50% at fault for the accident that led to your injuries you are still eligible to pursue compensation. However, your total compensation amount will be reduced by your percentage of fault.
Not all states follow this rule, Pennsylvania, however, is one that does. In this situation your compensation amount and your percentage of fault are determined separately. In the end your compensation total will be reduced by the fault percentage.
We've Recovered Millions of Dollars for Past Clients
More than 30 years ago, Golomb Spirt Grunfeld, P.C. began our personal injury practice, and we have been representing victims of third party negligence ever since. Backed by decades of collective experience, countless case successes, and a team of legal professionals committed to helping you secure maximum compensation, you can trust our firm to provide the support and guidance you need after any type of accident.
Our national reach means we can represent you anywhere in the U.S.
We utilize a team approach to ensure our strategies are bulletproof.
We understand the tactics used by insurance companies to minimize payment claims, and we actively work to combat against these schemes.
If you're facing expensive medical bills, costly property repairs, and / or unaffordable rehabilitation expenses after your accident, let us help you file a claim for compensation. As experienced lawyers with proven results, we are fully prepared to go to bat with the insurance company on your behalf. It's not uncommon for insurance adjustors to offer low-ball settlements in an attempt to capitalize on their business. We can fight low settlement offers and work to help you secure the full and just compensation you deserve.
If We Don't Win, You Don't Pay! Call Us:

(215) 278-4449

.
At Golomb Spirt Grunfeld, P.C. our contingency fee policy means you don't pay unless we win your case. All upfront legal fees and expenses connected to your case will be covered by our team until we can reach a successful settlement or verdict on your behalf. We are ready to investigate your accident and evaluate the details of your case.