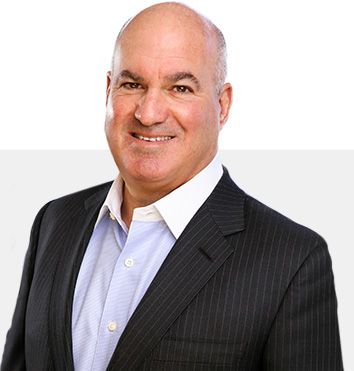 Richard Golomb
Pennsylvania, New Jersey, Nationwide
Richard Golomb is managing shareholder and a founding partner of Golomb • Spirt PC. He has more than 35 years of experience representing those who have been catastrophically injured as a result of medical negligence, defective products, dangerous drugs, construction accidents and other personal injury claims. He also represents victims of consumer, banking and mortgage fraud in class actions.
Early in his career, Mr. Golomb was an associate, and then shareholder, with a Philadelphia personal injury firm representing catastrophically injured plaintiffs before striking out on his own in 1996. Since 1998, he has been a shareholder in Golomb • Spirt P.C., where he has served as counsel in more than 80 cases that resulted in million-dollar and multimillion-dollar verdicts and settlements for individual and class action clients.
Mr. Golomb has served in leadership in more than a dozen multi-district litigations in pharmaceutical, consumer class actions and anti-trust matters. As examples, Mr. Golomb has served on the Bank Overdraft MDL executive committee which, to date, has recovered more than $1.3 billion dollars for consumers charged excessive overdraft fees through the re-sequencing of their transactions and as liaison counsel in the Benicar MDL which settled for $358 million. He has also served as co-lead in a number of class actions against most of the major national banks for the deceptive sales and marketing of their payment protection products. To date, through these class actions and representation of various states through their Attorneys General, banks and credit card companies have been made to pay over $200 million. Additionally, Mr. Golomb currently serves in leadership positions in a number of MDL's and coordinated matters representing individuals in pharmaceutical mass tort cases, and represents more than 300 women who have been diagnosed with ovarian cancer as a result of their perineal use of talcum powder.
An active member of the bar, Mr. Golomb has served as president of the Philadelphia Trial Lawyers Association and as an elected member of the executive board of the Philadelphia Bar Association. He also served as an officer of the American Association for Justice for three years. As a governor for the American Association for Justice, Mr. Golomb was twice recognized with the Distinguished Service Award and is a three-time recipient of the Weidemann-Wysocki Association's Medal of Honor. He was also awarded the Citation of Excellence by the American Association for Justice for his pro bono service in representing families victimized by the events of Sept. 11, 2001 and was a finalist in AAJ's Trial Lawyer of the Year.
Mr. Golomb was honored by the Pennsylvania Association for Justice with the Distinguished Service Award in 2010 for a career advocating for the rights of innocent victims and the lawyers who represent them. He has also served as a trustee of the Civil Justice Foundation, a fellow of the Roscoe Pound institute, as the American Association for Justice's delegate to the Civil Justice Roundtable.
Additionally, Mr. Golomb served as an elected member of the Board of Governors of the Philadelphia Bar Association and as the chairman of that body's State Civil Committee. He served two terms as a hearing officer for the Pennsylvania Supreme Court Disciplinary Board and was a member of the Judicial Selection and Retention Committee for five years.
Mr. Golomb also is a fellow member, or is listed in the following organizations:
International Academy of Trial Lawyers

International Society of Barrister's

Academy of Trial Advocacy

American Association of Justice Leaders Forum

Best Lawyers in America

Super Lawyers – Philadelphia Top 100

Who's Who in American Law
Mr. Golomb is a frequent lecturer and author who addresses trial advocacy subjects for the plaintiffs' and defense bar in areas such as expert witness preparation, evidence, cross-examination, ethics and subjects related to multi-district litigation.
Mr. Golomb and Golomb • Spirt, PC has served as lead, co-lead, member of the Plaintiff's Executive Committee or Plaintiff's Steering Committee in many class and MDL matters.
The following is a partial list:
In re: Mattel, Inc. Toy Lead Paint Productions Liability Litigation, United States District Court for the Central District of California, No.: ML 07-1897 DSF (AJWx)
In re: Checking Overdraft Litigation, United States District Court for the District of Florida, No.: 2036
In re: Bank of America Credit Protection Marketing Sales Practice Litigation, United States District Court for the Northern District of California, San Francisco Division, No. 3:11- md -02269-TEH
In re: Credit Card Payment Protection v. Discover Payment Protection Plan Marketing and Sales Practices Litigation, United States District Court for the Eastern District of Illinois, Eastern Division, Master File No.: 10-cv-06994, MDL No.: 2217
In re: H&R Block Refund Anticipation Loan Litigation, United States District Court for the Northern District of Illinois, MDL No.: 2373
In re: Liberty Refund Anticipation Loan Litigation, United States District Court for the Northern District of Illinois, MDL No.: 2334
In re: Budeprion XL Marketing & Sales Practices Lit., United States District Court for the Eastern District of Pennsylvania, MDL Case No.: 2107
Tasha Smith and Frederick Smith v. Intuit, Inc., a Delaware Corp., United States District Court for the Northern District of California, San Jose Division, No.: 5:12-cv-00222
David Kardonick, et al. v. J.P. Morgan Chase & Co. and Chase Bank USA, N.A., United States District Court for the Southern District of Florida, No.: 1-10-cv-23235-WMH
Kenneth Spinelli, et al. v. Capitol One Bank (USA), N.A. and Capitol One Services, LLC, United States District Court for the Middle District of Florida, Tampa Division, No.: 8:08-CV-132-T-33EAJ
Kirk David, et al. v. Suzuki, United States District Court of Florida, No.: 08-222780-civ
Raymond Buckwalter, on behalf of himself and all others similarly situated vs. Sterling Financial Corporation, Equipment Finance, LLC, J. Roger Moyer, Jr., Thomas Dautrich, George W. Graner and J. Bradley Scovill, United States District Court for the Eastern District of Pennsylvania, No.: 07-cv-02171
Cullen, et al. v. Whitman Medical Corporation, et al., United States District Court for the Eastern District of Pennsylvania, No.: 98-cv-4076
Aaron D. Martin, et al. v. Ford Motor Company, United States District Court for the Eastern District of Pennsylvania, No.: 2:10-cv-02203-JHS
Green, et al. v. FedEx, United States District Court for the Middle District of Florida, No.: 8:09-cv-00445-T-33TBM
Edward T. Esslinger, et al. v. HSBC Bank Nevada, N.A. and HSBC Card Services, Inc., United States District Court for the Eastern District of Pennsylvania, No.: 2:10-cv-03213-BMS
In Re: Google Inc. Gmail Litigation, United States District Court for the Northern District of California, San Jose Division, No.: 5:13- md -002430 LHK (PSG)
Richard Whisnant and John Yanczak, on behalf of themselves and all others similarly situated v. General Chemical Corporation, Court of Common Pleas of Delaware County, No.: 99-12286
In re: Benicar (Olmesartan) Products Liability Litigation, United States District Court for the District of New Jersey (Camden), MDL No. 2606
In re: Johnson & Johnson Talcum Powder Products, Marketing, Sales Practice and Products Liability Litigation, United States District Court for the District of New Jersey (Trenton), MDL No. 2738
In re: Talc-Based Powder Products Litigation, Superior Court of New Jersey, Atlantic County, MCL No. 300
In re: Valsartan N-Nitrosodimethylamine (NDMA) Contamination Products Liability Litigation, United States District Court for the District of New Jersey, MDL No. 2875