Philadelphia Car Accident Attorneys
Car Accidents in Pennsylvania
Even if you are an aware driver who follows the rules of the road and takes safety precautions such as wearing your seat belt, a car accident can happen in a shocking instant, leaving you hurt, traumatized and confused about what to do next. When this occurs, it is important to remember that you are not alone.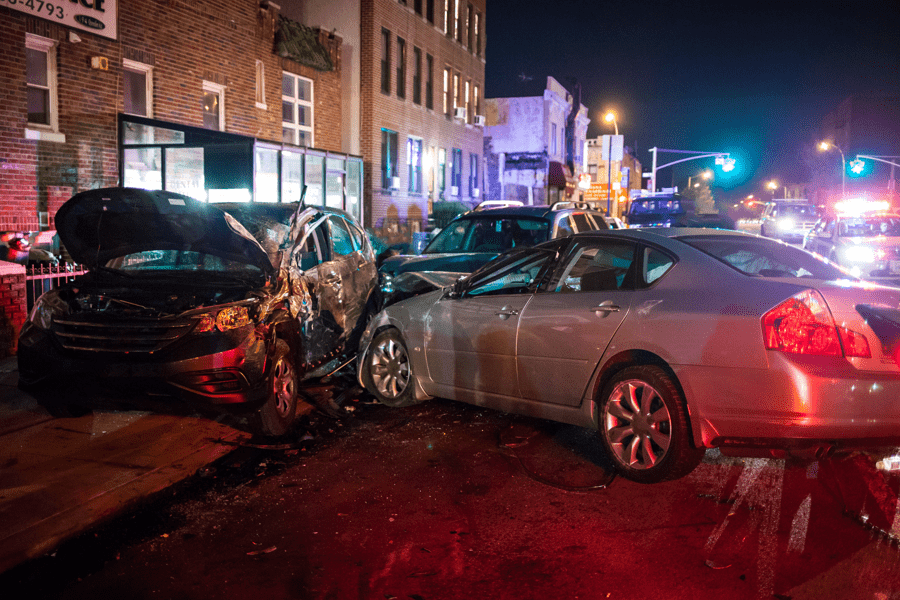 According to the Pennsylvania Department of Transportation, there were more than 128,000 car accidents reported in Pennsylvania in 2018. These accidents resulted in more than 78,000 injuries and over 1,100 deaths.
If you or someone you love was injured in a car accident that was the result of another driver's negligence, our Philadelphia accident lawyers at Golomb Spirt Grunfeld, P.C. can help you understand your legal rights.
You may be able to pursue financial compensation for related injuries and damages, so contact us at (215) 278-4449 immediately to evaluate your case.
Types of Car Accidents
Our car accident lawyers have successfully represented car accident victims in Pennsylvania, New Jersey, and throughout the United States who have been injured in:
Head on Collisions
Rear end Accidents
Side impact Crashes
Rollover accidents
Sideswipe accidents
Defective car accidents
Product liability car accidents
Single vehicle car crashes
Multiple vehicle car accidents
Car accident with uninsured driver
Car accident with government entity
Business related car accident
Common Car Accident Injuries
Even car accidents that occur at low speeds can cause significant injuries in the blink of an eye. Even with prompt medical treatment, some car accident injuries are stubborn and can cause significant long-term impairment, leading to a decreased quality of life and limited mobility.
Some of the more common injuries that occur during a car accident include:
Broken bones and fractures
Lacerations and scrapes
Secondary wound infections
Burns
Road rash
Whiplash
Concussions
Soft tissue injuries
Back injuries
Amputation
Internal organ damage
Traumatic brain injury
Spinal cord injury
Paralysis
Benefits of Working with a Car Accident Attorney
Why? Insurance companies will attempt to minimize their payouts following a car accident, and they frequently offer less to injured victims than the corresponding injuries, medical expenses and vehicular damage actually require. An experienced car accident attorney can fight aggressively to ensure that you and your family receive the money you need to fully recover. Lawyers simply don't back down-and insurance companies know this. As such, never accept a settlement with an insurance company without first speaking to your attorney.
Golomb Spirt Grunfeld, P.C. has more than three decades of experience assisting car accident victims and their families recover fair compensation and justice. Our attorneys have the experience and resources to work with investigators, accident reconstruction specialists, physicians and other experts necessary to support your claim.
While you focus on your recovery, our attorneys will be hard at work building a solid case against the negligent driver and negotiating a settlement that will cover all of your needs. If your case does proceed to trial, you can rest assured knowing that you are represented by attorneys with extensive litigation experience and the resources to handle even the toughest injury case.
Compensation in Car Accident Cases
The negligent driver or drivers who caused a car accident may be held responsible for compensation including:
Medical expenses
Damage expenses
Lost wages
Pain and suffering
Disability
Future medical needs
Wrongful death/burial expenses
What to Do after a Car Accident
A car accident is one of the most traumatic experiences you're likely to face in everyday life. According to the National Safety Council, an estimated 10 million accidents occur each year in the United States, and insurance industry leaders report that most Americans will file a car accident claim, on average, about every 18 years. Since it's not so much a question as if but when, it pays to know what to do if you've been involved in a crash.
The best way to learn about your rights and options if you've been injured in a car accident is to speak with the lawyers at Golomb Spirt Grunfeld, P.C. in person. We can guide you through this complex process.
Steps to Take Immediately Following the Accident
In the seconds immediately following a car accident, you may be disoriented or in shock. So it's worth spending some time to review the procedures you should follow in the wake of the accident, both to ensure the safety of you and your passengers, and also to ensure that evidence is preserved for your auto accident claim:
Check yourself and your passengers for injuries, and call 911 if you need emergency services. Don't attempt to move someone who is unconscious or has neck pain. Leave that to the medical professionals.
Turn on your vehicle's hazard lights and get out of traffic. If you're involved in a minor accident, move your car off the road and out of the way of oncoming traffic to avoid further accidents. Before moving the cars, take a photo of the accident if you can. Photographic evidence may be useful in building your case later.
Call the police. If there is noticeable property damage or if anyone has sustained a serious injury, then call the police as soon as you can do so safely. You'll want to file a police report, and be sure to request the officers' names and badge numbers.
DO NOT admit fault, apologize, or otherwise imply in any way that you are responsible for the accident. But DO exchange information with the other driver or drivers. At a minimum, request and provide the following: name, phone number, address, license plate number, driver's license number, and insurance information
Gather details. If you're safe and able to, gather as much evidence as you can. Smart phones offer convenient options for recording witness statements, photographing the scene, and noting important names and addresses.
Steps to Take After Leaving the Accident Scene
There are still several important things to take care of once you leave the accident scene:
Seek medical treatment as soon as possible, even if you don't think you're injured. Sometimes it can take days or even weeks for injury symptoms to arise, especially if you suffer a brain injury. You want to make sure you get prompt treatment and document that your injuries were caused by the car accident.
Call your insurance company and report the accident. This is required by law. Don't admit fault and don't sign any waivers or releases without consulting an experienced car accident lawyer first.
If you've suffered an injury, call our experienced car accident attorneys at Golomb Spirt Grunfeld, P.C. at once. The sooner we can start gathering evidence and building your case, the better the chances of a successful outcome.
Consider keeping a checklist in your car's glove box: When you've just been hit, it might be hard to remember everything you need to do. But if you remember nothing else, remember that priority number one is your safety and that of your passengers.
To Contact Our Philadelphia Car Accident Lawyers, Call

(215) 278-4449
If you or someone you love has been injured in a car accident, it is important to review your case with an experienced Philadelphia car accident lawyer. Time is of the essence in personal injury cases-and a lawyer can help ensure that you do not miss any critical deadlines that would bar you from filing a claim. To learn more about your rights and legal options, call Golomb Spirt Grunfeld, P.C. today.
Our experienced accident lawyers have represented injured car accident victims and their families in Pennsylvania, New Jersey, and across the United States in their quest for justice. We believe in holding negligent and irresponsible drivers accountable for their actions and fight aggressively for all our injured clients.
To learn more about your legal options or to schedule a free consultation call our Philadelphia car accident lawyers at (215) 278-4449 or fill out a free and confidential contact form on our website.
Related Reading